Aerospace industries impose special quality assurance requirements on suppliers. Our company maintains the international quality accreditation for special processes, NADCAP and other certifications/approvals.
NADCAP ACCREDITATION
Polishing up Aviation Quality with Global Standard Special Processes
NADCAP stands for National Aerospace and Defense Contractors Accreditation Program, which is a global quality standard for special processes in the aerospace industries. Over 50 aircraft manufacturers in the world select their suppliers with reference to the status of the accreditation. Following the initial NADCAP accreditation for its laser machining in 2002, Yoshimasu Seisakusho received NADCAP accreditations in 4 categories; laser/wire machining, TIG welding, heat treatment, and lastly fluorescence penetrant inspection in 2013, and has maintained them.
---
JIS Q 9100 CERTIFICATION
Quality Management System
Our quality management system, which complies with JIS Q 9100 "Quality Management Systems for Aerospace and Defense Industries", our company has been recertified since 2002. JIS Q 9100, a Japanese Industrial Standard compliant with AS9100 in the US and EN9100 in the EU, is a common standard in the world.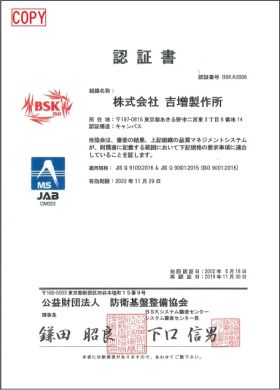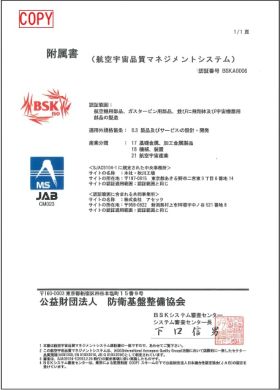 ---
SECURITY(ISMS CERTIFICATION)
Security risk mitigation is part of the quality we provide for our customers
Our information security management system (ISMS), which complies with JIS Q 27001 (ISO/IEC27001) "Information Security Management Systems", our company has been recertified since 2008. JIS Q 27001, a Japanese Industrial Standard, is compliant with ISO/IEC27001, the international standards.